5.) If you see Knightro, get a picture.
Knightro is basically UCF's very own celebrity. He's at most school events but is somehow unreachable 95% of the time. If you get a glimpse of the mascot around campus, don't miss out on your chance to snap a pic with him… you may never get that chance again.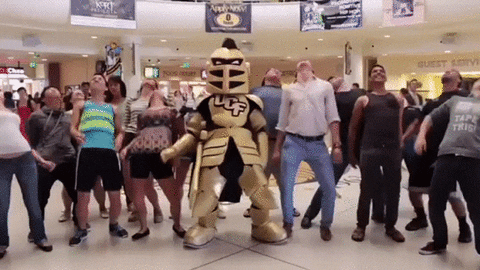 4.) Try to make it to the games.
UCF's football record is, well, less than perfect. One year we'll be winning bowl games and the next year we'll have a perfect streak… a perfect losing streak, that is. Whether the UCF football team is killing it or being killed, going to the games and supporting your team is a huge part of what college is all about. There is nothing like going to a football game for your college, and it's even better when we win on occasion.
3.) Be in the know. 
It's easy to get overwhelmed with so many students all in one place. Use social media to stay up to date with everything going on around campus. The "UCF Class of…" Facebook groups, Party Tutor, and apps like Happinin are a great way to hear about the latest news as it happens, so you're not left in the dark.
2.) You go to UCF… not some other school. 
A UF student would never wear an  FSU sweater around campus, and an FSU student would never be caught dead in UF's blue and orange, so don't do it at UCF either. We may be pretty neutral in terms of college rivalries (unless you count USF, but I usually never even remember they exist), but it's still not cool for you to wear another school's logo if you're a UCF student. Have some school pride and wear the super flattering colors of black and gold, or don't wear any school logos at all.
1.) Don't step on the Pegasus seal.
Seriously, just don't do it. You will never graduate. It's a curse and every student knows that stepping on the Pegasus seal in the Student Union is just something you do. Not. Do. Don't say I didn't warn you.