The Greatest Frat Party
When the weekend arrives  we all gear up for the next round of frat parties. There's houses that you favor over others, and parties can be a hit or miss. There are a few things that can make a party one we never want to leave, and they're super simple!
10. A beverage that is not alcohol… or cranberry juice. Thanks to the cute guy that offered me the shot I'm holding, but no thanks to the frat bros that don't have a drop of any liquid that's not liquor. No orange juice, no diet coke- just tap water that runs slightly brown and good old natty lights. It's a rare and beautiful thing to see a carton of orange juice following the bottle of Jack Daniels that is floating around the room. Not every girl can handle liquor straight (props to those who can) and not every girl wants to drink every single night. Sometimes it's nice to kick back with a red solo cup of diet coke and not have to deal with a killer hangover in the morning.
9. Seats. Despite how cute you look in your new heels, you're going to be begging for a chair to relieve your already-blistering feet.  After hanging on the dance floor for an hour partying with the cute boys, the last thing any girl wants to do is stand against a wall with her feet on fire and her legs about to buckle. Is having your shoe game on point worth the barefoot walk to Tacobell? Obvs- but it would be nice if the frat house had a chair or two instead of an entire first floor with no furniture and just a DJ booth.
8. Games. Every frat party will feature some good ol' beer pong and the occasional game of flip cup. A memorable rager will bring something more to the table. Maybe it's corn hole and ladder ball set up outside (sorority sisters vs. frat bros?) or a karaoke machine set up next to the DJ booth, entertainment that doesn't focus on drinking will spice things up and allow everyone a reason to talk to each other more than just asking who is next on the BP table. Who doesn't love drunk karaoke anyway?
7. Seeing your ex with a total downgrade. Ha. Ha. Ha. Nothing is more satisfying than knowing you look hot and seeing your ex walk through the door followed by a girl who is… well, less hot. You can't help but have a smirk on your face and suddenly that "hey can we talk" text you were thinking about sending him becomes a distant memory. You know he's sneaking peeks at you flirting with frat guys, and his girlfriend won't stop whispering to her friends about you. It doesn't matter though, because you're a boss ass bitch.
6. Gentlemen. When thinking of the stereotypical frat bro, "sweet, kind and caring" probably won't come to mind before pastel pants and beer bongs do. It's a breath of fresh air to find a frat star who will give you his sweater when it's chilly, not roll his eyes when you ask him to take a picture of you, and not dead you if you don't want to hook up with him. Finding reliable guys makes the party feel safer and more inviting.
5. Food. How awesome would it be to save the 2a.m. Jimmy Johns run for next weekend because the host frat ordered a few dozen 99 cent hamburgers for the tail end of the festivities? We can all agree that besides the cops busting it, the #2 reason why we dip out of frat parties is because we're way too hungry to enjoy ourselves (and could use something greasy to sober up). Even if there were store-bought cookies and chips, any effort would be a pleasant surprise that would keep the rager going longer.
4. Those super nice drunk girls you meet in the bathroom. Well, this isn't exactly rare to find, but it definitely gives you a good laugh and a (vague) memory the next morning. For some reason, the bathroom is a magical land of cold tiles and little toilet paper that makes bitch faces and attitudes mysteriously vanish. Even if you barge through the door (because the lock is probably broken) and walk in on two girls crying, you'll probably end up joining in on a group hug and taking an Instagram picture together.
3. A Clean Bathroom. Boys are gross and so are their bathrooms. With your luck, it was hair cut day at the frat house and the entire floor is covered with excess hair. There's mold outlining the sink and toilet, and you might even be greeted by an un-flushed toilet. You never know what you'll get when you swing open the bathroom door, but it would be a gift from above to walk into bathroom that doesn't make you want to vomit… and not from drinking. It's actually attractive when guys are clean and hygienic.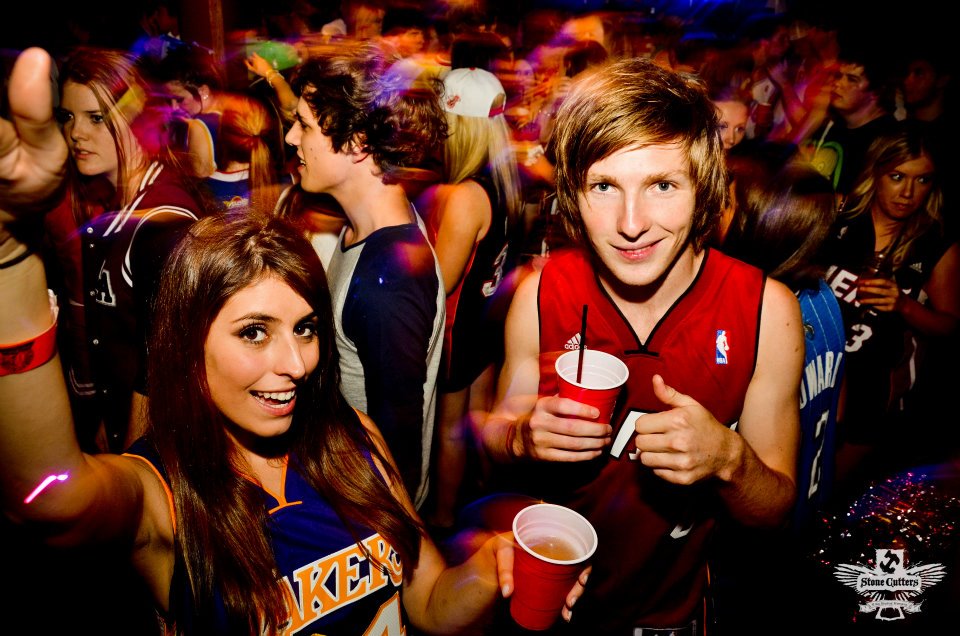 2. Good lighting/ Picture backgrounds. Dark frat houses aren't usually ideal for snapping a new profile picture, but if there's a room that actually has working lights where you can actually see how cute your outfit is, it's a total plus! Girls' eyes also light up when they catch a glimpse of a huge American flag, frat flag, or poster on the wall that they can pose in front of for the perfect Friday night Insta post. Pictures are the perfect memories!
1. Dogs. Having a furry frat house friend scampering around in the backyard is not only great for cute pictures, but adds a massive amount of cuteness to the fun! It's adorable to watch the guys play with their dog, and it's nice to obsess over something that isn't a boy for once, right?
These are a few of the hidden treasures that make every frat party a bit more enjoyable. Take notes, frat boys!